Company Profile - Protection Plus Cape Cod Auto Detailing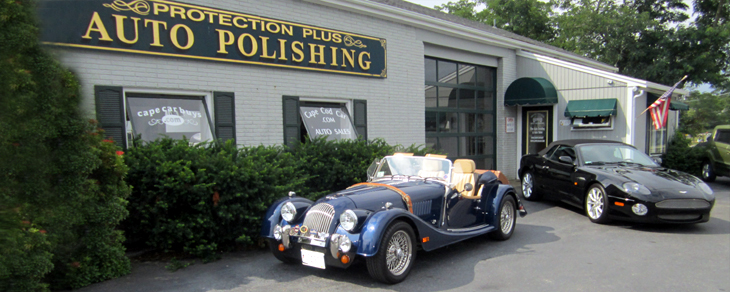 Thank you for considering Protection Plus Auto Detailing.
We take pride in the meticulous job that we do and the good will that we establish with our customers.

At Protection Plus, we specialize in complete automotive detailing and reconditioning of both your interior and exterior, and offer a vast array of auto appearance services.

We don't just wash and wax your car, we make it new again!
We encourage you to come visit our state of the art facility. We use only detergent safe products of the highest quality, allowing you to wash your car frequently and without worry of surface breakdown.

Protection Plus has stayed current with the changes in the automotive paint industry. We know what to safely use on your car's clear-coat paint and interior surfaces to make them gleam like new.

Having been under the same ownership and management since 1985,
our techniques have been honed and refined over years. No other auto detailing shop on Cape Cod can make the same claim. That means you can expect the same high quality service day after day, year after year from someone you know. At Protection Plus our customers become our friends.

When you're looking for auto detailing services on Cape Cod, please keep us at the top of your list.
Some of the services we offer are Paint Sealant, New Car Protection, Pre-Sale Detailing, Engine Detailing, Odor Removal, Paintless Dent Repair, Interior Rips and Burns, Damaged Windshields, Caliper Painting, Yellowed Headlights, Marine Detailing.




We are on the cutting edge of our field and have an auto detailing package for any budget.


DID YOU KNOW WE BUY & SELL HIGH QUALITY CARS TOO? CapeCodCar.com
is a division of Protection Plus Auto. We have been servicing discriminating motorists since 1985. After many years in the auto industry we have the knowledge to hand pick TRUE CREAM PUFFS. In most cases, we know the person we purchase the vehicle from, or have been servicing the vehicle.